Teenager Alex Weber and friends collected nearly 40,000 golf balls hit into the ocean from a handful of California golf courses.
The global crisis surrounding our oceans and the mass amount of non biodegradable products found on beaches and the sea floor is astounding. Exposing the harsh truth of the affects on our oceans and the marine life within have been frequently circulating the internet, to raise awareness of this problem. In an attempt to recycle and reuse plastic, there is no dent in the damage already caused by years of plastic pollution around the world .
Whilst snorkeling in the Monterey Bay National Marine Sanctuary, Alex Weber, a junior at Carmel High School in California, discovered an extortionate amount of golf balls littering the sea floor.
Retrieving more than half a ton of golf balls amounting to over 10,000, the increased awareness of this ever growing issue caught the attention of managers at the sanctuary and led on to the development of clean up procedures that prevent golf ball pollution from ever reaching these levels again.  Over the coming years, the results were startling, as they retrieved over 50,000 golf balls from the shoreline and shallow waters representing roughly 2.5 tons of debris.
The toxicity of golf balls
Matthew Savoca of Stanford University states that "Modern golf balls are made of a polyurethane elastomer shell and a synthetic rubber core. Manufacturers add zinc oxide, zinc acrylate and benzoyl peroxide to the solid core for flexibility and durability. These substances are also acutely toxic to marine life."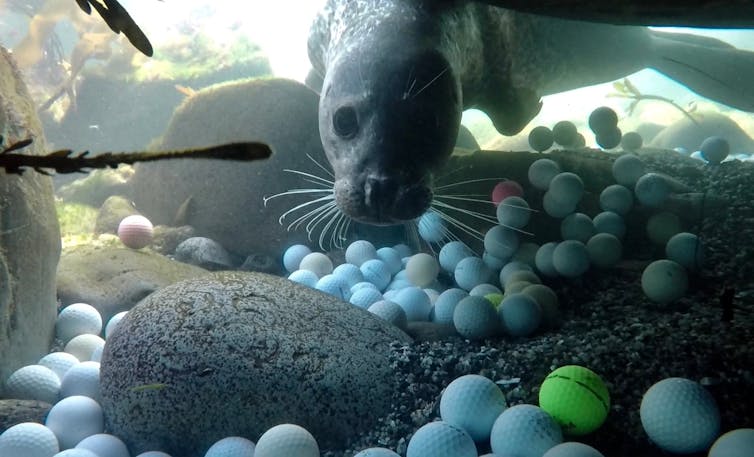 The journey to the ocean floor has no reported immediate effect on wildlife, however, when they sink to the bottom the eroding process begins. As they erode they may leach chemicals and micro-plastics into the water, breaking off into small fragments can endanger fish, birds or other animals as they can ingest them.
Many of the balls found were in excellent condition and could be reused and resold, whereas others were severely degraded and not salvageable. This shows the extent of the long term effects of plastic pollution within our ocean and the effect it has already had on marine life.
How you can help: